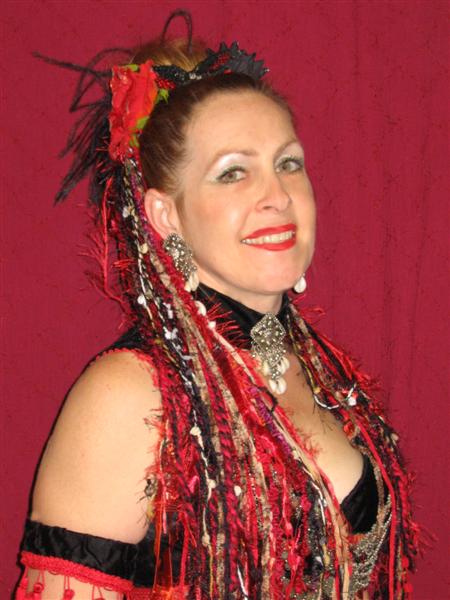 Bahira
Bahira was born of expatriate American parents in Saudi Arabia and lived in the Middle East for nearly 20 years. Arabic music is in her blood having listened to it on the radio and TV throughout her childhood. She saw her first professional belly dancer at Le Paon Rouge nightclub in Beirut, Lebanon when she was 16 and was smitten by the beauty of the dance. It would be eight years later that while browsing in a Los Angeles bookstore she came upon the instructional book by Marta Schill -- "The Compleat Belly Dancer" the very first of the now common how-to books on the art of belly dancing. Using the footprint diagrams and still photos in the book, a mirror and her memory of what she saw back in Lebanon, she taught herself the basics. When she discovered that Marta was the featured dancer at The Seventh Veil on Sunset Boulevard, she spent many a weekend night watching and absorbing the nuances of Marta's mesmerizing style. She has been watching and absorbing many dancers and styles ever since. Having taken time out to have a family, Bahira is currently a student of Alcina in Sunnyvale, California.

With the global village concept in mind, Bahira likes to blend and fuse dance steps from many ethnic cultures in innovative and playful ways and uses story-telling and drama to keep choreography interesting for the viewing audience. She formed Troupe Nambah with Mandella in keeping with the ethnic fusion style of belly-dancing using dance steps from Egyptian, Turkish, Indian, Moroccan, African, Flamenco and American Tribal dances as well as her Arabic roots.

Bahira lives in Santa Clara, California with her husband David, son Douglas and cat Julie and in addition to dancing, loves cooking, drumming and creating her own dance costumes. Her fondest dancing memory is an impromptu duet with a Tuareg man in front of an audience of German campers under a canopy of Saharan stars in the small village of Merzuga, Morocco. The Germans were surprised to learn that she was American, not Berber, and the dancing went well on into the night!