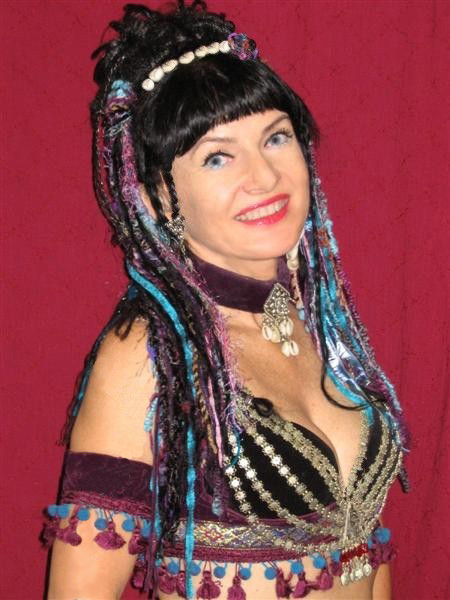 Mandella
Mandella was born in Glendale, California. Her parents made their living as musicians -- her mother playing piano, and her father playing the drums and singing. Mandella also was a child pianist, practicing several hours a day for countless recitals, and was a student of The Sherwood School of Music. One of Mandella's treasured memories from that time was having the honor of being presented The Sherwood School of Music Pin by Henry Mancini himself. In her teens she stopped playing the piano, but like her friend Bahira, music was to always remain a part of her life. Mandella's brother was in the Air Force and married a Turkish girl while overseas. When her brother and sister-in-law moved back to The United States, she was always in awe at her sister-in-law's beauty, her beautiful costumes, and Mandella loved listening to the Turkish music. But it wasn't until about 1997 that she saw a belly dancing class offered at the Sunnyvale Community Center. From that time till present, Mandella has been a student of Alcina at Sunnyvale's Community Center.

Mandella resides with her husband, Jesus, in San Jose, CA, and enjoys learning Salsa, Flamenco, and other Latin dance forms.

Mandella loves dancing with and learning from Bahira who has an endless sense of giving -- of not only her knowledge of belly dancing styles, but her encouragement, sewing tips, time, and intuition. Mandella's positive energy blends perfect with fellow members: Bahira, Fara'Asha, and now newest member Shiva. A dance can't be beautiful, without beautiful personalities. It's Nambahlicious...and It Shows!