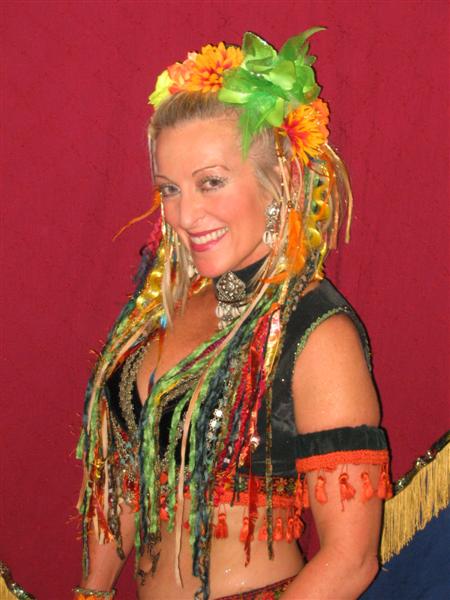 SHIVA
A local girl, Shiva was born and raised right here in San Jose, California. As a child she always dreamt of belly dancing, watching anything vaguely Middle Eastern on TV and drawing dancing figures on the walls, much to the dismay of her mother. As a youth, she expressed her love of movement and rhythm in gymnastics and modern dance.

When she turned 21, wanderlust caused her to explore Montana, Oregon and California where over a span of 13 years she learned the art of belly dancing from Habiba of Los Angeles and Badwia of Portland, among others. When financial struggles forced her to return to the Bay Area for work, she continued her study of belly dance from Jamilla Solampour and her then 16-year old daughter Souhaila of San Francisco as well as Una in the South Bay. Shiva found great joy in blending the art of belly dance with her love of bodybuilding and physical exercise.

Then a horrific injury to her hip during a bodybuilding workout crippled her for seven years, leaving her unable to walk, much less dance. During this disability period, she learned Native American flute and drum as well as Middle Eastern drum (Doumbek) enabling her to keep in tune with her dancing spiritually while her body mended. Surgery was finally successful in restoring her mobility and after a year of intensive rehabilitation, she resumed her passion for belly dancing taking classes from Alcina in Sunnyvale. It was there that Bahira, Mandella and Fara'Asha zoomed in on her and immediately knew she was Troupe Nambah material.

Shiva is currently an ongoing participant in many drum circles and Native American drum ceremonies throughout the state and Troupe Nambah is proud and happy to add her to the growing Nambahlicious family!